Planning a party? Get expert tips from professional Event Planner, April Wozny
6 min read on
home
Dec 2, 2017
Meet professional event planner, April Wozny. Also dubbed a cultural curator, April has planned events for a wide variety of celebrations. From weddings to birthdays, product launches to store openings, she is always ready and excited to bring her client's ideas to life.
We sat down with April to chat about setting the stage for a memorable—and safe—holiday party. Below are her top tips for hosting your own celebration at home.
Sit-down, buffet, cocktail? What is your go-to at-home party style?
Cocktail all the way. It's the easiest way to socialize and gives guests the freedom to wander around and mingle. Plus, there's more of an opportunity for a dance floor to happen. It's the end of the year and a lot of people just want to shake off the year, cut loose, and dance!
How can people prepare their home for guests?
Your home is about to be on display inside and out. Making it look pretty is great but being thoughtful about safety is key too. Start by making the entrance accessible and groomed like shoveling and salting the driveway. Icy patches make for unnecessary falls, which can be disastrous for the elderly, those using strollers and those in wheelchairs. Make sure to have enough room for large winter coats and boots. Storing extra boots in the mudroom or coats on a bed will be helpful for managing the overflow of bulky and potentially snowy or wet items.
Think of your high frequency areas like the bathroom and kitchen. Having extra toilet paper rolls on display is key. Hand towels tend to get wet quickly so have a basket stocked on hand.
They say the kitchen is the heart of the party. Again with the towels, having extra paper or bar towels for spills and extra garbage/recycling bags placed at the bottom of the bins for quick and easy change when full.
A day or two before the party, grab your valuables (family heirlooms, passports, small precious items) and take it to your safety deposit box or store it in your home safe or a well-hidden spot in your home—just don't forget where you put it!
What is important to remember to make in advance? What should you make the night before? On the day of?
Prep is key to a successful party. Prepping in advance and not the day-of will be a huge time and, in particular, stress saver. You want to have as much as you can done the day before so you're not stressed running around the day of then exhausted by the time your guests show up.
A few days before:
Do your major cleaning.
The day before:
Prepare all the food and garnishes and store in Tupperware. I like to know the day before exactly what food is going on what dish or platter so I don't have to think and I can just assemble day of.
The day of:
It may seem obvious, but it's often forgotten: don't forget to drink a lot of water and eat. Some make the mistake of running around and forgetting to do just so and come the time of the party, their first meal is at the party which is never a good thing, especially if you plan on having a few drinks. Remember: a host should always be more composed than his or her guests.
How much party food do you recommend having on hand? What types of food/snacks?
Too much food is never a bad thing. I tend to serve too much food as I would rather have that than running the risk of hungry guests with nothing to snack on.
I typically have about two plates of snacks per person, as a general rule of thumb.
It's always a classy move to ask guests whether they have any allergies or dietary restrictions. For instance, I will never serve nuts at my party because nut allergies are so common. It's hard to accommodate everyone and as a host we want to but as long as you are aware and mindful of any major allergies, you are doing your best. 
For guests who are drinking, how do you ensure no one drinks too much?
To be a responsible host means to help your guests be responsible too. I like to call this a good investment. I suggest hiring a bartender who has their Responsible Alcohol Beverage Service Training Program certification by your provincial Alcohol & Gaming Commission like SmartServe in Ontario. Bartenders won't free pour as they properly measure. It is their job to make sure guests are not overserved.
Do you have a go-to non-alcoholic holiday drink for the designated drivers?
Alcohol free drinks don't have to mean less fun. This Lavender Blueberry Mojito Mocktail looks great—and tastes even better.
Watch the video and get the recipe below.
Lavender Blueberry Mojito Mocktail
Ingredients:
mint leaves
½ tbsp lime juice
1 tbsp lavender syrup
Ice
Blueberries
Club soda
Lime slice
Directions:
In a highball glass, add mint leaves, lime juice, and lavender syrup.
Muddle ingredients in glass.
Add a handful or two of blueberries and fill the rest of the glass with ice.
Top glass with club soda.
Garnish with a mint leaf and a slice of lime and enjoy!
What are some things people often forget to have on hand, that they should remember?
Music: It's great for background noise or for those who like to cut a rug.
Ice, ice, baby: The morning of, be sure you have enough ice to store in your freezer or even outside in the snow.
A smile on your face: You are the maestro of the party so if you are having a good time, your guests will too.
Do you have any tips for dealing with someone at a party who has had too much to drink?
As a host serving alcohol at your home, you have a legal responsibility to ensure the safety of your guests. That's why the best thing to do is stay proactive and keep an eye on your guests throughout the night. If you find someone has had too much, you need to stop serving him or her and offer to help them find a safe way home. Have a local taxi number or the Uber app handy and it's a good idea to have a set place to keep your guests keys if they need to pick them up the next day.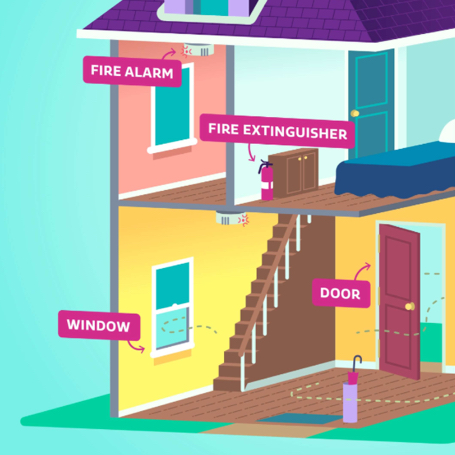 You never know how you'll react in an emergency. Here's how…
Find the right coverage for you, with a Johnson home insurance policy tailored to your needs.