5 Tips for pain-free plane travel during the holidays
4 min read
travel
Jul 22, 2019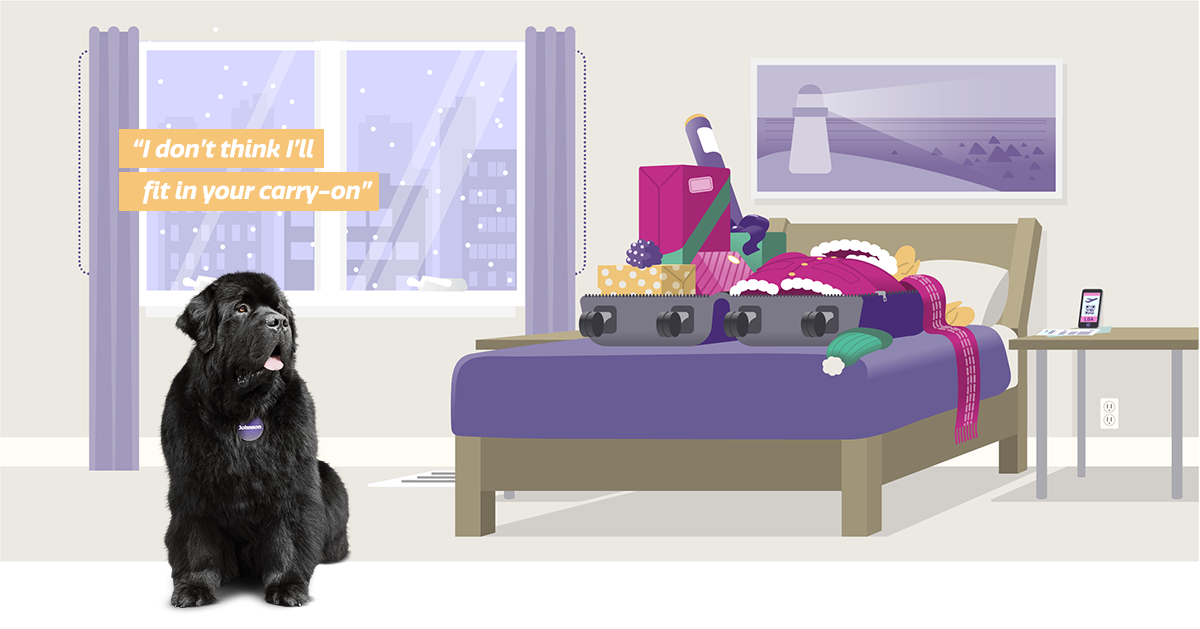 No one particularly looks forward to airports during the holidays. Crowds, long lines, and unexpected delays can leave you and your family feeling anything but jolly. That's why we've compiled our top holiday travel tips to help fill your family with holiday cheer.
1. Pack smart
If you're travelling within Canada (or another cool climate), it's a smart idea to keep your coat and heavier sweaters with you, instead of packing them. Not only will this help you save space in your luggage, but it also means you can avoid having to start digging for your coat in the middle of the airport once you arrive at your destination. Travelling somewhere warm? Pack a set of clothes, including a bathing suit in your carry on, just in case your luggage goes missing.
2. Skip the wrapping paper
We all know that airport security is becoming increasingly strict. If you're travelling with gifts, leave them unwrapped – especially if they are part of your carry-on luggage. Wrapped presents go through the same scanning process as all of our other luggage and there's a good chance they'll have to be unwrapped for inspection. Bring along gift bags separately so you can put the finishing touches on presents when you arrive, or if you have enough time, have them shipped in advance to your destination. Bonus: you'll have more space in your luggage for personal items.
3. The earlier the better
In the winter months, traffic and construction aren't the only things that can slow us down on the way to the airport. Weather conditions can have a huge impact on your arrival time. Instead of running out the door last minute in a McCallister family type frenzy, you should leave with ample time for possible delays. If you're driving to the airport, another time-saving tip is to fill up on gas the day before.
4. Wash, rinse, repeat
Peak holiday travel is also peak flu season. Everyone knows that you must wash your hands after using the washroom, but to help your family from getting sick or prevent the spread of germs, don't let the cleaning end there. Recent studies have shown that the plastic trays at security are one of the most germ-packed places1. Packing a carry-on friendly hand sanitizer can help everyone keep germs at bay. 
5. Make sure you're insured
Travel insurance is a great idea – especially as the weather gets colder and more unpredictable. When looking for coverage, you'll want to make sure you're offered medical and non-medical coverage. If you're a Johnson group plan member, you may have access to our exclusive MEDOC® travel insurance. MEDOC® includes trip cancellation, trip interruption, and trip delay, along with 24-hour emergency medical assistance. Find out more about MEDOC® travel insurance.
6. Use points to save money
It's easy for the bills to add up quickly over the holidays. If you have a travel rewards credit card, consider booking your flights using points. 
No one wants things to go unplanned. But keeping your cool with airline employees could help resolve issues much more quickly (and with less stress from both parties). If you find yourself getting frustrated, remember to smile. It is the holidays after all. Plus, once you arrive at your destination, the only thing you'll have to worry about its where to find another glass of eggnog.
Looking for more travel tips? Check out ways to keep your home safe while you're away, and how to stay smart on social media.
MEDOC® is a Registered Trademark of Johnson. MEDOC is primarily underwritten by Royal & Sun Alliance Insurance Company of Canada ("RSA") and administered by Johnson. Johnson and RSA share common ownership.
Enjoy multi-trip year-round protection, so you're covered no matter what.